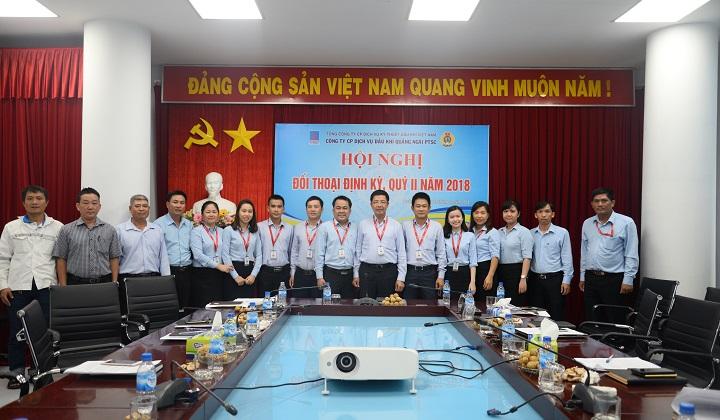 Written by: To Uyen
Photo by: Duc Toan
In order to continue promoting the democratic rights, listen and absorb the opinions of employees, on July 26, 2018, PTSC Quang Ngai organized the second dialogue in 2018 with the participation of the following members: Representatives of the employer are Mr. Pham Van Hung, Director of the Company and Head of advisory departments; The representatives of the employees are the Trade Union Executive Committee and members of the Dialogue Group.
The contents of the second dialogue in 2nd quarter of 2018 have been focused on the following issues: the situation of production and business activities of the Company, the situation of taking care of life, policies, salary increase, time off, annual uniform, supporting transportation as well as finding and creating jobs for workers …
All comments of employees have been recorded, resolved and answered in a complete and thorough manner. Some comments that require time to resolve were specifically assigned by the employer representative to the specialized divisions that are responsible for implementation and early resolution in 2018.
After more than two hours of dialogue, the two sides reached a high agreement on the content discussed. Unifying in the coming time, two sides will work closely to implement democratic regulations in the workplace more effectively. In addition, trade union should further promote the role of a bridge between employees and employers, continue to update and propagate deeply to all employees about legal issues related to employees, helping employees understand rights and legitimate interests. At the same time, all employees strive for the common goal of the Company, bringing the Company to be more developing and especially creating jobs, increasing income for employees./.