Written by: Kieu Oanh
Photo by: Thanh Luan
Implementing the Youth Union work program and Youth movement in 2018, in order to show the role of Youth Union in the protection, care and education of teenagers and children, at the same time helping them get experience and learn about their parents' work at PTSC Quang Ngai, the PTSC Quang Ngai Youth Union Executive Board organized the "What your parents do" program for 4th and 5th graders who are offspring of employees in the Company on July 20, 2018.
Attending the program, there were Mr. Huynh Van Thanh – Deputy Head of Dung Quat Port Team, Mr. Dinh Van Quan – Head of Dung Quat Mechanical Workshop, Mr. Ho Cao Sang – Deputy Head of Dung Quat Mechanical Workshop, Mr. Pham Duc Thuan – Deputy Head of Dung Quat Mechanical Workshop, comrades in the Youth Union Executive Board of the Company, the Youth branches, Youth Union members and especially the participation of 34 pupils in grades 4 and 5.
At the beginning of the tour, the pupils had a brief introduction of the Dung Quat Port and Mechanical Workshop about the overall plan, the main activities that are taking place at 2 these places. After that, the children were guided to visit some of the Dung Quat Port 's Divisions, visited the port area, saw the loading and unloading activities of woodchips on board, visited the workshop area with activities of processing, mechanical engineering – structure… This is the first trip for many pupils but has left them with many good impressions on the clean, beautiful image and large space of Dung Quat Port and Mechanical Workshop.
Also in the program, the students also mingled, relaxed in the joyful and exciting atmosphere, received many meaningful gifts when participating in campaign and fun games organized by Youth Union such as painting to guess words, keeping the egg in spoon… After finishing the outdoor activities, the children had a rest and enjoyed a delicious lunch at the cafeteria of Mechanical Workshop.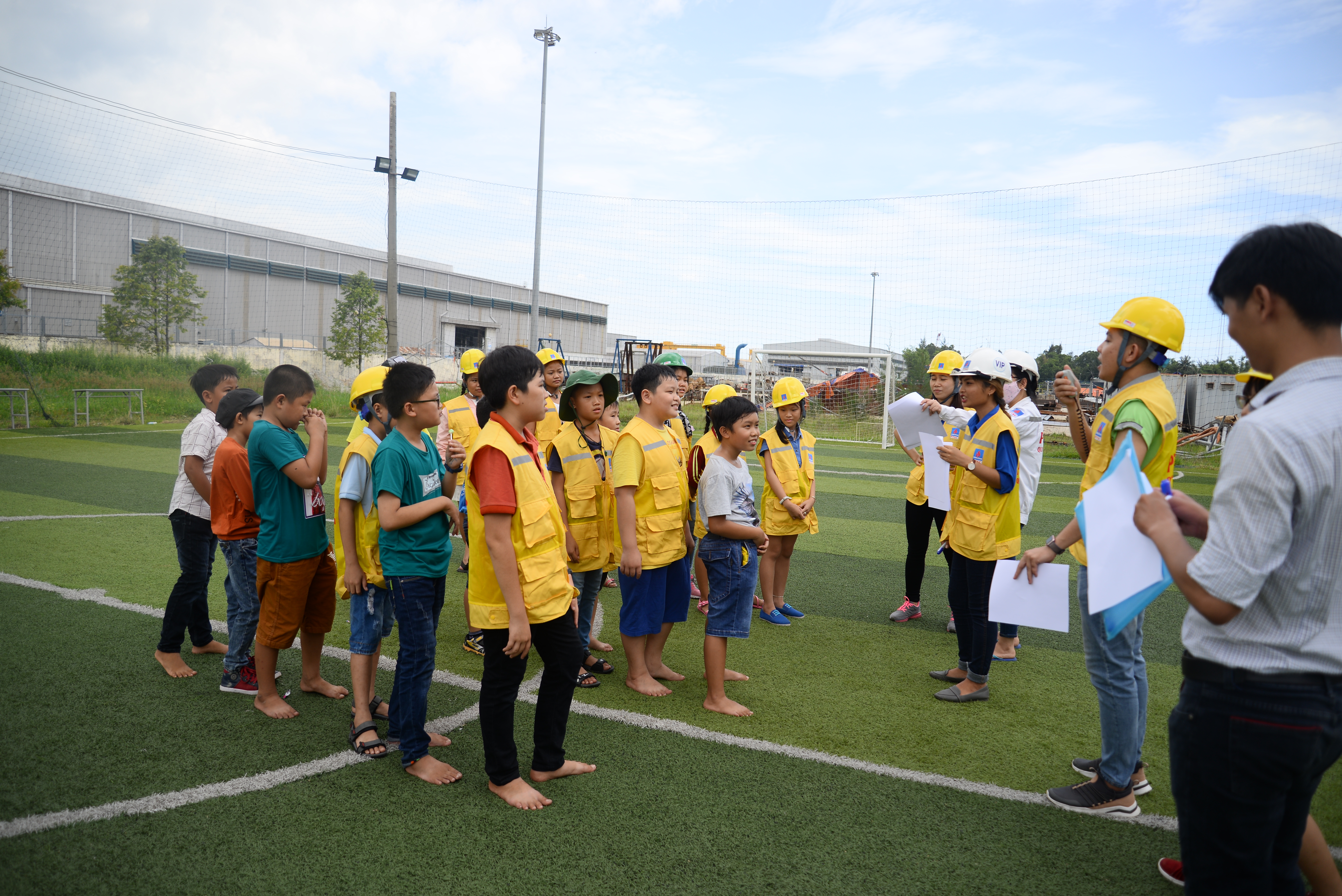 The visit to their parents' workplace is one of the most interesting, new and rewarding experiences for children to understand the hard work of their parents, contributing to the pride of the labor and dedication of their parents under the common roof of PTSC, creating motivation for them to study well and obey their parents and to improve themselves everyday./.