In order to create a lively atmosphere in production and business labor of the Company in 2017, promoting the exchange relationship among the divisions of the Company simultaneously looking forward to welcoming the Trade Union Congress of PTSC for the term of 2017-2022 and the 20th anniversary of the PTSC Quang Ngai's establishment (October 17, 1997 to October 17, 2017), with the consent and direction of the Company's Board of Directors, the Company's Trade Union held a Sports Festival in 2017. Attending the opening ceremony were Mr. Vu Duc Cuong – Member of Executive Committee of PVN's Trade Union; Vice Chairman of PTSC's Trade Union; Mr. Pham Van Hung – Director of PTSC Quang Ngai; Mr. Huynh Ngoc Thanh – Chairman of PTSC Quang Ngai's Union and leaders of departments.
During 03 days (from October 6 to October 8, 2017) more than 100 athletes from: The Office Teams No. 01 & 02, Dung Quat Port Service Team, Mechanical Workshop & Players of projects in Quang competed with the competition contents of Women's Football, Men's Football, Tennis, Badminton and Table Tennis. This is an opportunity for leaders and all employees of the Company to have the opportunity to exchange, show solidarity in order to strengthen close relationships, coordinate to help each other in the process of work.
When it comes to football, most people tend to think of male players with fierce disputes and beautiful goals. But everyone forgets that girls can play football just like boys. This year, for the first time, PTSC Quang Ngai has established a women's football team including 4 teams of Office Teams No. 01 & 02, Dung Quat Mechanical Workshop and Dung Quat Port. To increase the attractiveness as well as give the female players the opportunity to rub and show their talents, the organizers have collected the opinions of the teams, decided to kick the first leg and the second leg. From costumes to how to organize the game with skilled ball handling situations, the girls made the viewers' admire. When playing, the female players do not collide as fiercely as the male players but the skill and coordination are no less than the boys so they attracted many fans and created interest for the audience in the yard.
After 3 days of exciting and fierce competition with the enthusiastic support of the fans, the PTSC Quang Ngai Sports Festival ended successfully. With the spirit of enthusiastic, honest, objective and impartial competition, the organizers have awarded prizes to the high-achieving, high-performing athletes.
The results of the competition are as follows:
Men's Football:
Champion: Dung Quat Mechanical Workshop
Second Prize: Dung Quat Port Team
Third Prize: Office Team No. 01
Good style: Office Team No. 02
Excellent player: Le Quang Vien
Outstanding goalkeeper: Nguyen Sy Luan
Women's Football:
Champion: Office Team No. 01
Second Prize: Dung Quat Port Team
Third Prize: Office Team No. 02
Good style: Dung Quat Mechanical Workshop
Excellent player: Nguyen Thanh Kim Vy
Outstanding goalkeeper: Phu Thi Nhi
Badminton:
Men's Singles Championship: Nguyen Viet Thanh (Dung Quat Port Team)
Men's Singles Second prize: Nguyen Ngoc Quy (Office Team No. 02)
Men's Singles Third Prize: Do Hong Minh (Dung Quat Port Team)
Men's Doubles Champion: Bui Quang Anh & Duong Minh Duc (Office Team No. 01)
Men's Doubles Second Prize: Nguyen Viet Thanh + Do Hong Minh (Dung Quat Port Team)
Men's Doubles Third Prize: Nguyen Le Nhat Tan + Do The Duyet (Office Team No. 02)
Women's Doubles Champion: Le Thi Hai Hau + Lu Thi Ha Huyen (Office Team No. 01)
Women's Doubles Second prize: Nguyen Le Minh + Tran Nhu Diem (Office Team No.01)
Women's Doubles Third Prize: Pham Thi Nguyet + Nguyen Thi Ngoc Lam (Office 1)
Women's Doubles Championship: Nguyen Ngoc Quy + Nguyen Le Minh (Office Team No. 02)
Mixed Doubles Second Prize: Lu Thi Ha Huyen + Nguyen Ngoc Dien (Office Team No. 01)
Mixed Doubles Third Prize: Nguyen Viet Thanh + Pham Thi Thu Nhung (Dung Quat Port Team)
Table Tennis:
Men's Singles Championship: Tang Van Cuong (Dung Quat Port Team)
Men's Singles Second Prize: Nguyen Quoc Buu (Dung Quat Port Team)
Men's Singles Third Prize: Le Hoang Anh (Office 2)
Men's Doubles Champion: Nguyen Quoc Buu + Tang Van Cuong (Dung Quat Port Team)
Men's Doubles Second Prize: Vo Van Tan + Nguyen Van Tuyen (Dung Quat Port Team)
Men's Doubles Third Prize: Ngo Xuan Hai + Tran Xuan Thanh (Dung Quat Port Team)
Mixed Doubles Championship: Le Hoang Anh + Pham Nu Kieu Oanh (Office Team No. 02)
Mixed Doubles Second Prize: Nguyen Thi Phuong Hang + Huynh Ngoc Thanh (Office Team No. 01)
Mixed Doubles Third Prize: Nguyen Trong Tuan + Nguyen Thanh Kim Vy (Office Team No. 01)
Tennis:
Men's Doubles Champion: Nguyen Tan Thuat + Ngo Xuan Thao (Office Team No. 02)
Men's Doubles Second Prize: Tran Dat Nguyen + Pham Van Vuong (Office Team No. 01)
Men's Doubles Third Prize: Nguyen Van Chinh + Ho Vu Duy (Office Team No. 01)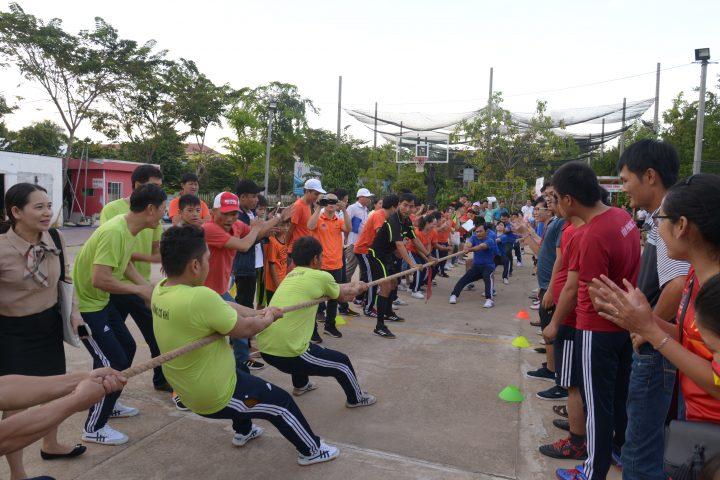 Written by: Nguyen Trang
Photo by: Thanh Luan