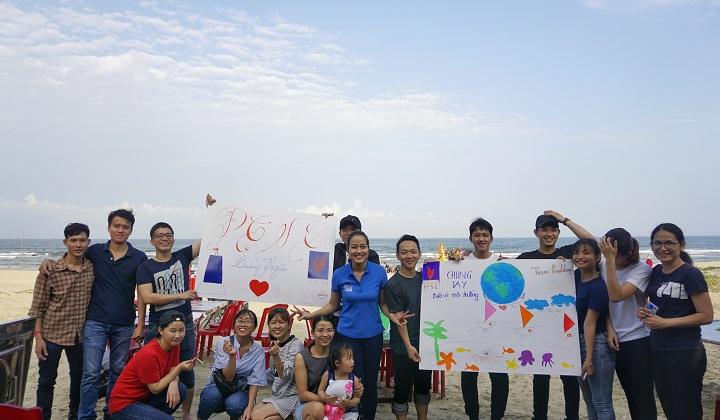 Written byTin: Thanh Luan – Cam Tu
Photo by: Thanh Luan
In the exciting atmosphere of youths throughout the country to celebrate the 88th anniversary of Ho Chi Minh Communist Youth Union foundation (March 26th 1931 – March 26th 2019), to enhance political and ideological education work, heroic traditions of the nation and promote the spirit of shock, volunteering, create a lively emulation atmosphere for the Youth Union members, with the consent of the Party Committee, Trade Union and The Board of Directors of the Company, Standing Committee of PTSC Quang Ngai Youth Union successfully organized the "Meaningful Activities Series to celebrate the Youth Month of March 2019".
Within the framework of these activities, on March 22nd 2019, PTSC Quang Ngai Youth Union and its associated branches including Quang Ngai Maritime Port Authority, Port Management Board &  Sa Ky Port Authority and Gemadept Dung Quat International Port implemented social security program in Tinh Ky commune, Quang Ngai city. The program presented 55 gifts to poor but studious students at Tinh Ky Secondary School, each gift worth 300,000 VND. This was a meaningful activity, showing the spirit of solidarity for the community of the units operating in the maritime sector, enhancing the professionalism and specialty of volunteer activities, contributing to dreaming to school, bringing a bright future for the children.
Following the series of activities to celebrate the Youth Month, the Youth Union of PTSC Quang Ngai organized a meaningful team building program for Youth Union members. The program was held on Sunday March 24th 2019, attracting the enthusiastic participation of the members of the Union. At the beginning of the program, everyone joined in to clean up My Khe beach area in response to the #ChallengeForChange that was spreading widely not only in Vietnam but around the world. While environmental pollution was a painful and urgent issue of society, such positive activities were the "answers" with full of responsibility of people, especially young people. Activities not only brought immediate effect – returned the beautiful green landscape to the public, but also created lasting effect of raising awareness and promoting similar activities in the youth union members in the future.
After the end of this activity, a series of interesting team building games were organized with the participation of the Branches in the Company. This combination of games both enhanced solidarity, the ability to work in groups, and brought relaxing moments filled with laughter for the Union members. The end of the program was a cuisine exchange at My Khe Beach, where everyone enjoyed delicious food and talks, cultural exchanges together.
Meaningful activities to celebrate the month of the youth achieved many successes with many memorable moments and the strong spillover effect in the youth union members about the solidarity and sense of responsibility for the community; At the same time, step by step asserted the bravery, the spirit of shock, volunteering, the role of the youth union members in many practical and meaningful activities.