Recently, in the 3 days of May 19-21, 2017, at the Quang Ngai Provincial Sports School, PetroVietnam Sports Complex and An Phu Sinh area, PTSC Quang Ngai participated in Sports Festival 2017 of Vietnam Oil and Gas Industry at the Central region which was organized by Trade Union of Vietnam National Oil and Gas Group (PVN). This is the event in response to the "Worker Month" in 2017, to celebrate 127 years of President Ho Chi Minh's Birthday, 56 years of the Vietnam Oil and Gas Industry Traditional Day and 26 years of establishment of PVN's Trade Union.
Attending the opening ceremony were the Standing Vice President of PVN's Trade Union, Mr. Tran Ngoc Dung; Mr. Vu Duc Cuong – Members of PVN's Trade Union Executive Committee, Vice Chairmen of PTSC's Trade Union; Mr. Pham Van Hung – Director of PTSC Quang Ngai; Mr. Huynh Ngoc Thanh – Chairman of PTSC Quang Ngai's Trade Union; representative leaders of Central Oil and Gas units and more than 500 athletes from 14 units.
Speaking at the opening ceremony, Mr. Tran Ngoc Dung – Standing Vice Chairman of PVN's Trade Union emphasized that the Oil and Gas Sports Festival 2017 is a significant activity to improve the cultural and spiritual life of Group's employees; is a useful and healthy playground, creating favorable conditions for employees in the industry to meet, exchange experiences and learn, share and support each other to overcome all difficulties and challenges. At the Sports Festival, each sport is a lively and exciting activity; are the colors that adorn the vivid picture of the working life of employees in the industry. Through the Sports Festival, there will be many new factors with great prospects and the nucleus of the sports movement in each unit. These activities will encourage and motivate employees to work, contribute more to the success of each unit, contributing to the overall success of Vietnam National Oil and Gas Group.
The Central Region Sports Festival this year took place with 6 competing contents including: Tug of war, bag jumping, Table Tennis, Badminton, Tennis and Swimming. The team of PTSC Quang Ngai includes 50 athletes participating in all 06 subjects.
After 3 days of active competition with the spirit of solidarity, joy and honesty, the sports team of PTSC Quang Ngai won 17 awards including: 02 Gold, 01 Silver and 01 Bronze prizes for Tennis; 01 Gold & 02 Bronze prizes for table tennis; 01 Gold, 02 Silver & 02 Bronze prizes for badminton; 01 Gold prize, 02 Silver and 02 Bronze prizes for Swimming.
Specifically the awards are as follows:
Table Tennis
Le Hoang Anh + Nguyen Quoc Buu – First Prize (Men's Doubles) under 35 years old
Le Hoang Anh – Third Prize (Men's Singles) under 35 years old
Nguyen Thi Phuong Hang – Third Prize (Women's Singles)
Badminton:
Nguyen Le Minh – First Prize (Women's Singles)
Duong Minh Duc + Nguyen Le Minh – Second Prize (Mixed Doubles)
Lu Thi Ha Huyen + Nguyen Ngoc Quy – Third prize (Mixed Doubles)
Bui Quang Anh + Nguyen Viet Thanh – Second Prize (Men's Doubles)
Bui Quang Anh – Third Prize (Men's Singles)
III. Tennis:
Nguyen Ngoc Dien – First Prize (Men's Singles)
Nguyen Ngoc Dien + Nguyen Duc Hoa – First Prize (Men's Doubles)
Nguyen Duc Hoa – Third prize (Men's Singles – over 35 years old)
Phan Tan Sy + Vo Anh Tu – Second Prize (Men's Doubles)
Phan Tan Sy – Third Prize (Men's Singles)
Swimming:
– Women's swim
Tran Thi Mo – First female swimmer
Tran Thi Kim Dung – Second female swimmer
Pham Thi Thu Nhung – Third female swimmer
– Men's swimming
Tang Van Cuong – Third Prize (100m freestyle swimming)
Tang Van Cuong + Le Thanh Dat + Vo Duy Tung – Second Prize (150m relay swimming for Men)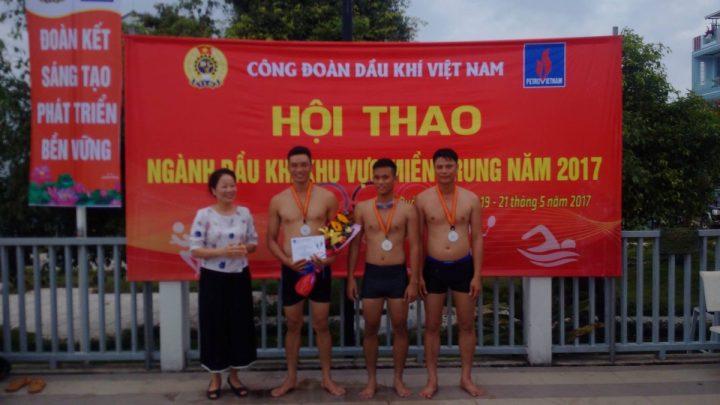 Written by: Nguyen Trang
Photo by: Thanh Luan & Minh Duc