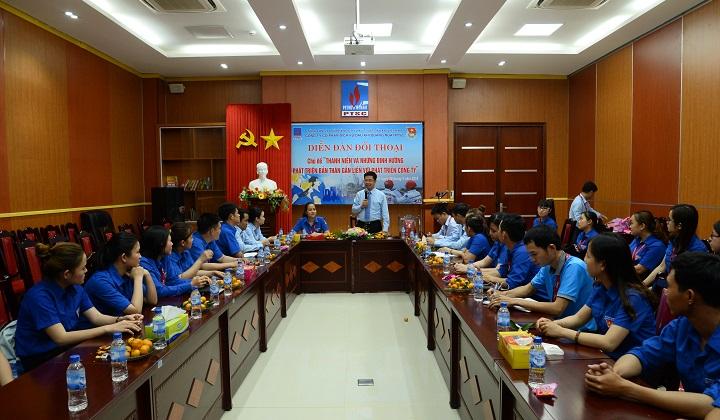 Written by: Xuan Ly
Photo by: Thanh Luan
Welcoming the Youth Month 2018, celebrating the 87th anniversary of the establishment of the Ho Chi Minh Communist Youth Union (March 26, 1931 – March 26, 2018), with the consent of the Party Committee and Board of Directors of PTSC Quang Ngai, on March 29, 2018, the Executive Board of Youth Union organized the program "A dialogue forum between Youth Union members and the Board of Directors through the theme: Youth and personal developing directions in association with Company's development". Attending the forum were Mr. Pham Van Hung – Director, Party Committee Secretary of the Company; Mr. Huynh Ngoc Thanh – Chairman of the Company's Trade Union and the Secretaries of Party Committees of Office 1& 2 together with the participation of more than 40 Youth Union members.
At the seminar, Youth Union members bravely presented their questions, recommendations and suggestions related to professional work, developing models of art and sports activities in the Company as well as developing technical improvement of initiatives to improve the efficiency of production activities, union activities. The contents have mainly been focused on the development orientation of each youth attached to the development of the Company…Comrade Pham Van Hung – Director of the Company answered questions from Youth Union members and gave his useful advice in planning to develop capacity of each youth, maximizing their fortes, skills, intellect, the ready spirit of youth and devised solutions to achieve plans and goals.
Through the forum, PTSC Quang Ngai had the opportunity to cultivate working skills and experience, further promote the overall development of the Company, contributing to creating a solid premise for all activities of youth, thereby they can be ready on all fronts under the leadership of the Party Committee / Board of Directors of the Company./.