Wirtten by: Nguyen Thi Hong
Photo by: Thanh Huyen
Starting a series of gratitude and warm social activities in 2018, recently, Youth Union members of 4 units: Quang Ngai City Police, Nghia Lo Ward, PTSC Quang Ngai, Vietcombank Quang Ngai coordinated to organize the program "Journey to the Red address". The program gave the members special and meaningful experiences when they had the opportunity to share with poor people and poor students who overcome difficulties to study well in Tra Xinh commune, Tay Tra district, a highland commune where life is still facing many difficulties in all aspects. Tra Xinh commune has also been severely affected by the recent storm No. 12, causing roads to be lost and divided. Moreover, people here often suffer from severe cold raging every year.
After nearly 4 hours on the bus, the delegation arrived in Tra Xinh commune, Tay Tra district. Tet's atmosphere is bustling, people crowded on the road to prepare for Tet. The Youth Union members together urgently carried out and arranged gifts to distribute to poor people and typical students in difficult circumstances of the commune. Although the gifts are not large, they are enough to share the difficulties so that people here can enjoy a more completed Tet. The gifts include: 100 gifts for the people in difficult circumstances (each gift includes: 10kg of rice, cooking oil, fish sauce, sugar, cakes, milk); 100 gifts for typical disadvantaged students (each gift includes: 01 briefcase, 20 notebooks, 02 pen boxes, cakes, milk).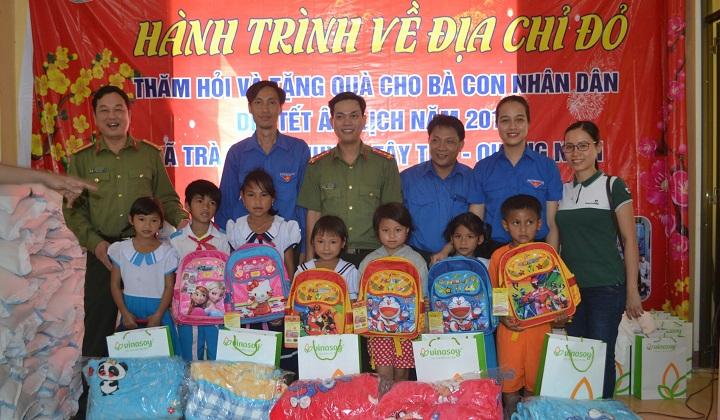 Together presenting gifts and exchanging with compatriots, all members of the journey felt the hospitality and gratitude of the people from the time of welcoming to farewell. Life is too difficult, but people are always emotionally rich. Ending the trip with many emotions rising, the members have felt so nostalgically. Everyone will always remember the hand holding, the affectionate eyes and the love of the ethnic people here.
With youth, enthusiasm and kindness, PTSC Quang Ngai Youth Union and Youth Union of units in Quang Ngai provincial hope to continue organizing many social welfare programs to help support those in difficult circumstances, the unfortunate lives, accompanying the local authorities to well perform the social welfare in the province./.