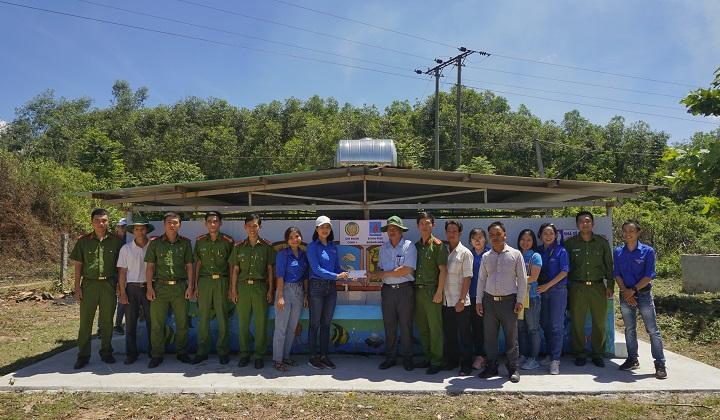 Written by: Cam Tu
Photo by: Thanh Luan
Responding to the enthusiastic spirit of the Voluntary Summer Activities of Youth Union members in all parts of the country, at the same time, looking towards the 60th anniversary of the Petroleum industry to implement Uncle Ho's wishes (July 23rd 1959 – July 23rd 2019), 50th anniversary of implementing President Ho Chi Minh's will (1969 – 2019) and 72th anniversary of War Invalids – Martyrs' Day (July 27th 1947 – July 27th 2019), on July 6th, PTSC Quang Ngai Youth Union coordinated with People's Police Division 1 to organize meaningful volunteer activities in Ba Dong and Ba Vinh communes, Ba To district, Quang Ngai province.
Coming to work in Ba Dong commune, PTSC Quang Ngai Youth Union and People's Police Division 1 Youth Union had the opportunity to meet, visit and give gifts to 10 families of wounded soldiers, sick soldiers, families of martyrs' relatives, Vietnamese heroic mothers (each gift worth 500,000 VND). Listening to the share and confession of the previous generation, the Youth Union members not only added pride in the heroic tradition and heroic victories of the nation but also more imbued "when you drink water, think of its source". The activity contributed to raising the sense of responsibility of youth union members in caring for people with meritorious services to the revolution, policy families, war invalids, and martyrs' relatives and urging them to actively practice to devote to the cause of national construction, so that it was worthy of the merits of the previous generations.
The volunteer program continued with activities at Ba Vinh Primary School, Ba To District. With the desire to improve facilities and create an environment for pupils to study well, PTSC Quang Ngai Youth Union and People's Police Division 1 Youth Union carried out repairing and handing over full toilets area for the school. Following that, the youth union members also presented 10 gifts worth 5 million VND to disadvantaged but excellent students at the school. The gifts were not big, but through that, youth union members showed interest, share and encouragement to them, hoping that they would continue to promote their spirit of overcoming difficulties and eagerness to learn.
Continuing the summer activity series, at 2PM, July 25th 2019, PTSC Quang Ngai Youths cooperated with Binh Thuan commune, Border Guard unit of Dung Quat Port border gate, Customs Sub-department at Dung Quat Port Border Gate and Quang Ngai Port Authority co-organized gratitude activities for families of war invalids, martyrs in Binh Thuan commune. The delegation visited families and relatives of martyrs, wounded families, burned incense in front of the heroes of martyrs and gave 10 gifts, with a total value of 5,000,000 VND from the contributions of cadres, soldiers, youth union members of the units.
Along with this activity, PTSC Quang Ngai youth union also coordinated with the Company Veterans Association to organize annual activities to visit the cemetery of martyrs of Binh Thuan Commune and to visit Vietnamese Heroic Mothers, families and relatives of martyrs, wounded families with many difficulties in Binh Thuan commune, where the Company had Dung Quat Port Service Team and Dung Quat Mechanical Workshop engaged in production and business activities. During this trip, the Youth Union of PTSC Quang Ngai presented 3 gifts to 3 veteran comrades who were the Company's employees (1,000,000 VND/person) & 2 Vietnamese heroic mothers in Binh Thuan commune (including gifts & 500,000 VND/ person).
The chain of volunteer activities of PTSC Quang Ngai Youth Union in July 2019 ended successfully, achieved the whole purpose and created many memorable moments and memories, contributing to consolidating and improving the spirit of shock, volunteering for the community and the spirit of "when you drink water, think of its source" of youth union members.